Blog Summary
Are you in the middle of a layover? Or have you landed in the city as a tourist? Or are you just another local wanting to explore some new food experiences? Whatever your reason might be, this blog will give you the top 9 must-try foods near Chennai Airport!
Introduction
If you're a tourist going through Chennai and you're in the mood for some delicious food, look no further. Chennai, known for its vibrant culture and delectable cuisine, offers a plethora of mouthwatering options.
What are you in the mood for? A spicy samosa chat? Or a creamy milkshake? Or an American-style pizza? There are absolutely no restrictions for any food cravings whatsoever when you're in Chennai Airport!
This blog will walk you through the top nine must-try cuisines that will leave your taste buds tingling with excitement! So come along with us as we set out on a culinary adventure in Aerohub Mall- minutes away near Chennai Airport!
9 Must-Try Foods Near Chennai Airport
1. Veg Sizzler with Mushroom and Cheese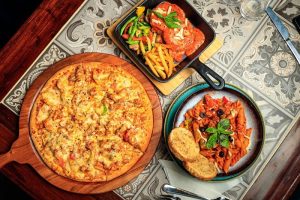 Indulge in a sizzling platter of vegetables, mushrooms, and cheese for a full meal! The combination of sizzling flavours and melted cheese creates a truly delightful experience, giving you a wholesome and flavourful meal to get you through the rest of the day!
Where: Kobe Sizzlers
Cost for 2 (approx)

: Rs. 1400

Spice level

: 3/5

Pair it with

: Mint Tea

Other must-try dishes

: Classic Tomato Bruschetta, Prawn Nasi Goreng, Dragon Chicken
2. Ghee Masala Dosa
Craving for something local? Try the perfect Ghee Masala Dosa, with its crispy golden exterior and flavorful potato filling. The addition of aromatic ghee on top of this iconic dosa takes this classic South Indian dish to another level.
Though this is popularly eaten for breakfast, who are we to tell you not to eat it for lunch/dinner or even snacks?!
Where

: Vasanta Bhavan

Cost for 2 (approx)

: Rs. 280

Spice level

: 1.5/5

Pair it with

: Medhu Vada and Hot Filter Coffee 

Other must-try dishes

: Idli Podli, Jeera Rice, Parotta
3. Afghani Lamb Burger
The flavours of Afghan come alive as you savour the succulent lamb meat, complemented by a compelling blend of herbs and tangy sauces. Experience the fusion of cultures in this crispy and juicy burger that combines the best Afghani cuisine with the American classic!
Where

: Biggies Burger

Cost for 2 (approx)

: Rs.460

Spice level

: 3.5/5

Pair it with

: Cajun Crinkle Fries and Coke 

Other must-try dishes

: Veg Impossible Burger, Peri Peri Beamer, Loaded Chicken Fries
4. Chicken Biryani
Who wouldn't love a hot and flavourful plate of biryani, right? It's the food for the soul! Fragrant basmati rice cooked to perfection, layered with tender chicken and a blend of aromatic spices, makes this dish a true delight for biryani lovers. Head straight to enjoy the most iconic kind of biryani out there- the OG Chicken Biryani!
Where

: Junior Kuppana

Cost for 2 (approx)

: Rs. 440

Spice level

: 3/5

Pair it with

: Chicken 65, Kalakki

Other must-try dishes

: Pichupota Naatu Kozhi Fry, Mutton Chukka Dry, 

Mutton Kola Urundai
5. Khao Suey – Wow! China

Are you craving something Asian? We got you covered! Khao Suey is a rich and creamy Burmese noodle soup, topped with a variety of condiments like egg noodles, garlic, and fresh herbs. It tantalises the taste buds with its complex flavours, combining coconut milk, spices, and meat or vegetables. If you love Asian cuisine, this is a must-try
Where

:

Wow! China
Cost for 2 (Approx)

: Rs.460

Spice level

: 2/5

Pair it with

: Pepper Lemon Chicken or Crispy Chilli Baby Corn

Other must-try dishes

: Shanghai Spring Roll, Thai Green Curry and Rice, Golden Fried Prawns
6. Butter Naan and Butter Chicken Masala
Nothing can possibly go wrong with this! Enjoy the quintessential Indian combo of Butter Naan and Butter Chicken for a warm and hearty meal. Soft and buttery naan pairs perfectly with the creamy and flavorful butter chicken, creating a truly satisfying meal. If you're craving for something with a spicy and tangy kick, you wouldn't want to miss this. 
And if you're a foreigner visiting the city for the first time, this is the perfect regional food to start with.
Where

: Street of Arabia

Cost for 2 (approx)

: Rs. 700

Spice level

: 2.5/5

Pair it with

: Mint Lemonade

Other must-try dishes

: Arabian Baklava, Falafel Sizzler, Kalmi Kebabs
7. Louisiana-style Chicken with Cajun Fries
Yes, you read that right! You can now enjoy Louisiana-style Chicken in Chennai at your very own POPEYES! If you didn't know it already, Popeyes is now in Chennai at two locations- one being at Aerohub Mall near Airport. Enjoy the restaurant's signature crispy, seasoned chicken alongside perfectly spiced Cajun fries for a finger-licking good meal!
Where

: Popeyes

Cost for 2 (approx):

Rs.450

Spice level

: 2.5/5

Pair it with

: Coca Cola

Other must-try dishes

: Lemon Chilli Grilled Chicken, Cajun Chicken Popcorn, Chicken Sandwich
8. Triple Chocolate Belgian Waffle
You've just landed at the airport. Start your trip by having something sweet and hearty for an instant mood booster! Indulge your sweet tooth with a Triple Chocolate Belgian Waffle. This decadent treat features a fluffy waffle topped with luscious chocolate sauce, chocolate chips, and a generous dollop of whipped cream.
Where

: Dessert Works

Cost for 2 (approx)

: Rs.260

Sweet level

: 4/5

Pair it with

: Almond Toppings

Other must-try dishes

: Sorbet Popsicles, Fresh Fruit Parfait, Hot Chocolate Fudge
9. Lychee Chiller with Strawberry Jelly
Looking for something chill and refreshing? Cool down with a fresh and energizing Lychee Chiller. Made with sweet lychee and accompanied by delightful strawberry jelly, this drink is a perfect blend of fruity flavors that will quench your thirst.
Where

: Cha Republic

Cost for 2 (approx)

: Rs.250

Sweet level

: 3/5

Pair it with

: Peri Peri Fries

Other must-try dishes

: Butterscotch Milk Tea, Matcha Latte, Choco Berry Oreo Shake
Enjoy a complete food experience at Aerohub Mall!
Located near Chennai Airport, Aerohub Mall is a haven for food enthusiasts seeking a complete culinary experience. Step into the mall's 24/7 food court and be greeted by a bustling atmosphere filled with the aromas of delectable dishes. With various cuisines available in the mall, you can indulge in everything from authentic South Indian delicacies to tantalising continental delights.
But the food journey doesn't end there. Aerohub Mall goes beyond satisfying your taste buds by offering a classy PVR movie theatre experience where you can unwind and enjoy the latest blockbusters. 
 So, next time you find yourself in the area, explore this vibrant hub and immerse yourself in an entirely fun-filled experience!
Conclusion
Chennai boasts a wide array of flavours and dishes that are sure to tantalise your taste buds. From traditional South Indian delicacies like dosas and idlis to flavorful biryanis and delectable seafood, Chennai has it all. With the new Aerohub Mall near Chennai Airport, a day out in Chennai with some yummy foods is now more accessible and convenient than ever!
Whether you have a short layover or a longer stay, these nine must-try foods will leave you with a lasting impression of the city's dynamic food culture. 
Frequently Asked Questions (FAQs):
Which food is special in Chennai?
Chennai is known for its diverse cultural influence in its cuisine, as it has a mix of foods from all the cities in the state. However, the most common and popular foods, special in Chennai, are the breakfast items like Idli, Vada, Dosa, Paniyaram, and more.
What are some of the most famous snacks in Chennai?
Some of the most famous snacks in Chennai include: Bajji, Pani Puri, Atho, Boli, Kuzhi Paniyaram, Kaalan (Mushroom), Jigarthanda, and more.
What's the best biryani to try in Chennai?
Though Chennai is home to many different types of biryanis from across the state, the most popular biryani special to the city is the 'Wedding Biryani', also called the 'Baai Veetu Biryani'- which is authentic basmati rice cooked in coal and firewood.
What is Chennai's favourite sweet?
Payasam is Chennai's favourite sweet. It is a rich, creamy dessert made with vermicelli, rice, chickpeas, or green grams with milk or coconut milk as the base. It is often made during festivals or special occasions. 
Are restaurants in Chennai expensive?
Chennai has a huge range of restaurants, from affordable eateries to expensive fine dining places. The price of eating out in Chennai differs based on the kind of restaurant you pick, the location, and the time of the day.