Blog Summary
Have you just landed in Chennai and are all pumped up to start your trip? Or even if you're just looking to pass time during a long layover, we've exactly got what you need to spend time around and near the airport. Read our blog to discover the top 5 places to visit near Chennai Airport for a guaranteed good time!
Introduction
Chennai, the bustling capital city of Tamil Nadu, is not only a central cultural and economic hub but also offers a gateway to many stunning locations nearby. Whether you're a local resident looking for a quick getaway or a traveller in Chennai, these five places are worth considering for an unforgettable experience! 
From entertainment hubs to chilling spots, each destination boasts its unique charm and promises to make you fall in love with the city!  So, fasten your seatbelts and get ready to embark on a thrilling journey through these fascinating locales near Chennai Airport.
Experience a fun and relaxing time near Chennai Airport 
Aerohub Mall is a vibrant destination offering a perfect blend of shopping, entertainment, and culinary delights to satisfy you. Indulge in a shopping spree at Aerohub Mall's diverse range of stores. From fashion boutiques to electronics, you'll find everything you need and more. Explore the latest trends, shop for souvenirs, or treat yourself to something special.
When it comes to entertainment, catch the latest blockbuster movies at the state-of-the-art cinema, challenge your friends to arcade games, or simply experience the thrill of virtual reality! And, of course, the culinary options at Aerohub Mall are a treat for the taste buds. You'll find many dining options, from local delicacies to international cuisines, to suit every palate. 
Aerohub Mall near Chennai Airport is the perfect place to unwind and have a memorable time!
5 Places To Visit Near Chennai Airport
These are the top 5 places you can visit near Chennai Airport!
1. Aerohub Mall
AeroHub Mall, located just two minutes from Chennai Airport, is the ultimate shopping destination. Its wide range of products, from designer clothing to gourmet foods, caters to every need. 
The contemporary architecture and lively atmosphere ensure a seamless and enjoyable shopping experience. Whether you're a traveller or a local, AeroHub Mall guarantees a memorable trip just minutes away from the bustling airport.
2. Madipakkam Lake View Road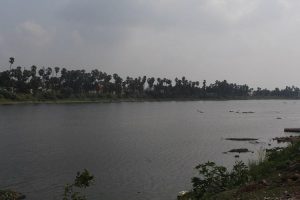 Located near Chennai Airport, Madipakkam Lake View Road offers a scenic drive with beautiful lake views. The lake was first constructed to provide water for irrigation and drinking purposes. In recent years, the lake has become a popular spot for recreation, with people coming to enjoy the scenic views.
It is a peaceful retreat where you can take a leisurely stroll, enjoy the fresh air, enjoy delicious treats at the food stalls and witness breathtaking sunsets.
3. St. Thomas Mount
Just a short distance from Chennai Airport, St. Thomas Mount is a historical and religious site. Climb up the hill to visit the iconic St. Thomas Mount Church and enjoy panoramic city views. It's a serene spot for reflection and spiritual connection. 
In addition to the churches, St. Thomas Mount is also home to many other attractions, including a museum, a lighthouse, and a garden. The museum exhibits artefacts related to the history of St. Thomas Mount and the apostle Thomas. 
4. Pallavaram Forest
Pallavaram Forest is calm amidst the chaos near the bustling Chennai airport. This hilly, tree-covered park is a haven for birdwatching, hiking, and picnicking. If you feel adventurous and are in the mood for a good trek, this is the spot for you!
It houses diverse wildlife, including peacocks, monkeys, and snakes. The forest also boasts several temples, while visitors can savour breathtaking city views from the hilltop. Open throughout the year, the trail offers timeless beauty, inviting exploration at any time.
5. Guindy National Park
Guindy National Park is a green oasis in the city. It is home to diverse flora and fauna, offers nature trails, a deer park, and more! It's a perfect spot for nature lovers and wildlife enthusiasts. 
There are also other attractions in the park, such as a children's park, a snake park, and a botanical garden. Guindy National Park is a popular destination for both locals and tourists, and it is an excellent site to learn about Chennai's natural history.
Aerohub: Your One-Stop Destination in Chennai
Welcome to Aerohub Mall, an exclusive shopping destination in Chennai that promises an unparalleled experience of luxury and indulgence. Over 250,000 square feet, Aerohub offers plenty of premium amenities, including a diverse selection of exquisite dining options, a cutting-edge 5-screen cinema, and a sophisticated ambiance.
Beyond shopping and dining, Aerohub goes above and beyond to fulfill every individual's desires. Embark on thrilling adventures, immerse yourself in captivating theatrical performances, or indulge in delightful shopping experiences. 
Check out this newly launched space for some fun adventures!
Conclusion
Chennai Airport is a gateway to an array of exciting destinations worth exploring. The five places near Chennai Airport mentioned in this blog offer every traveler diverse experiences. 
Whether it's the buzzing vibe of the latest Aerohub Mall, the relaxing Madipakkam Lake or the fun-filled Urban Square, each destination has its unique charm. With their proximity to the airport, these places provide convenient and memorable options for both short layovers and extended trips. 
Go ahead, start exploring the city, and tell us how you liked it!
Frequently Asked Questions (FAQs)
What are the top 5 places to visit near Chennai Airport?
The top 5 places to visit near Chennai Airport include- the new Aerohub Mall, Madipakkam Lake View Road for the food walk, St.Thomas Mount, Urban Square at Kathipara and Guindy National Park.
What are some things to do in Chennai Airport and the surrounding areas?
You can visit the newly opened Aerohub Mall for a fun way to spend time. The mall is home to many shopping stops, restaurants, entertainment places, electronics stores, movie theatres, and more! 
What are the top restaurants for dining near Chennai Airport?
There are many dine-in restaurants in and around Chennai Airport. You can check out all the restaurants in the new Aerohub Mall for a wide variety of cuisines to pick from. Check out Asia Seven, Biggies Burger, Popeyes Chicken, Junior Kuppana, and more. 
How can you spend your layover at Chennai Airport?
There are many ways to pass your time during a layover at the airport. You can try spending time in the new and exciting Aerohub Mall, do some shopping in the duty-free shops, chill at the lounge with food, drinks, and WiFi, or just take a nap in the lounge too!
Are there any places for entertainment near Chennai Airport?
Yes, there are many entertainment spots near Chennai Airport. You can try watching a movie at PVR or playing fun games at LED (Live Entertainment Destination) in Aerohub Mall.