Blog Summary
Are you at Chennai airport and can't find a good enough place to dine in? Don't worry; we got you covered! This blog will take you on a culinary journey, highlighting the five best dining places near Chennai Airport. 
Introduction
Did you just land in Chennai? Or are you a super-hungry traveller passing by the airport, waiting for a layover? Whatever your situation is, welcome to Chennai, a bustling city known for its rich cultural heritage and vibrant food scene.
Chennai airport not only offers convenient travel connections but also boasts an array of dining options that will satisfy your taste buds. Nestled within Aerohub, the latest mall in Chennai airport, lies a treasure trove of gastronomic wonders just waiting to be discovered. 
From sizzling burgers to fragrant South Indian delicacies, these top-rated dining destinations promise an unforgettable feast for all your senses.
Get ready to discover these dining destinations!
Indulge in a Wide Variety of Cuisines Near Chennai Airport
When it comes to satisfying your culinary cravings near Chennai Airport, Aerohub Mall is the place to be. This vibrant shopping destination offers a diverse selection of cuisines that will tantalise your taste buds.
From traditional Indian delicacies to international flavours, the mall hosts a range of dining options that cater to every palate. Whether you're in the mood for aromatic spices and rich curries or craving the flavours of world-class gourmet cuisine, Aerohub Mall has it all.
Experience the convenience and luxury of enjoying diverse culinary delights under one roof!
5 Best Dining Places Near Chennai Airport
Here are the top 5 restaurants in Aerohub Mall you must visit!
1. Biggies Burger: Soft, Crispy, and Juicy Burgers
Biggies Burger offers a variety of delicious burgers that will satisfy even the most refined palates. They have a wide variety of options, including classic cheeseburgers, lamb burgers, and even vegan burgers. 
Great cooking starts with high-quality ingredients. At Biggies Burger, they use fresh and high-quality ingredients to make their burgers, sides, and drinks. Each order is meticulously cooked by trained chefs, ensuring every bite is a flavour explosion. 
2. Popeyes: Fried Chicken All the Way From Louisiana!
Enjoy the delicious flavours of Louisiana-style chicken at Popeyes, now available at Aerohub! Popeyes is a well-known fast-food chain loved by chicken enthusiasts worldwide. This restaurant chain has only one location in Chennai, at Phoenix Marketcity. So this is the second outlet in the city!
Popeyes is famous for its crispy, juicy chicken that bursts with flavour. Don't miss their signature dish, the Popeyes Chicken Sandwich, with a dedicated following. It features tender chicken, a soft brioche bun, and an array of delicious toppings and sauces.
3. Junior Kuppana: Relish Authentic South Indian Flavours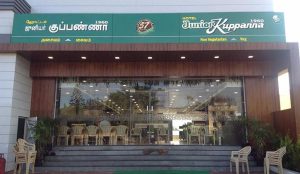 Experience the authentic flavours of South Indian cuisine at Junior Kuppana, near Chennai Airport. The restaurant is known for its authentic Kongu cuisine, a regional style of cooking from the Kongu Nadu region of Tamil Nadu. The menu features a variety of dishes, including Biryani, Tamarind Fish, and Chicken Chettinad.
If you're in the mood for a wholesome and fulfilling South Indian meal, you should definitely visit Junior Kupanna for traditional dishes cooked with the finest ingredients and aromatic spices.
4. Vasantha Bhavan: The Authentic South-Indian Flavours
Are you craving something South-Indian? Then, this is the perfect sport for your taste buds to experience the authentic flavours of the south! Known for its delicious dishes, Vasantha Bhavan captures the essence of traditional South Indian food for more than five decades now. From mouthwatering crispy dosas to aromatic and fresh sambar, every bite is a treat for your soul. Vasantha Bhavan's menu offers a wide range of vegetarian options, showcasing the region's rich culinary heritage.
5. Dessert Works: A Sweet Paradise for Dessert Lovers
If you have a sweet tooth and you're at Chennai Airport, Dessert Works is the place to be. They offer various frozen treats and thick blends to satisfy your cravings. 
Treat yourself to their delicious shakes, cakes, and ice creams. Their shakes are made with natural milk and topped with whipped cream, providing a refreshing and indulgent experience. Choose from many flavours like vanilla, exotic mango, chocolate brownie crumble, dry fruit, or fresh fruit shakes. It's the perfect way to cool down on a hot day or reward yourself after a tiring day.
Aerohub: The Ultimate Destination for Travellers, Shoppers, and Locals
Experience luxury and indulgence at Aerohub, a premier shopping destination in Chennai. With over 250,000 square feet of premium space, Aerohub offers a wide range of exquisite dining choices, a state-of-the-art 5-screen cinema, and a stylish atmosphere.
Indulge your taste buds with a diverse selection of culinary delights at Aerohub. From elegant fine dining establishments to quick and satisfying fast-food eateries, you'll find various options to suit your preferences.
Aerohub caters to every individual's desires, providing a range of experiences beyond shopping and dining. Whether you're looking for thrilling adventures, captivating theatrical performances, or delightful shopping experiences, Aerohub has it all.
Experience the luxury and convenience of Aerohub, where dining, entertainment, and shopping come together to create a truly satisfying experience.
Conclusion
Aerohub in Chennai airport and its surrounding area offer a delightful culinary experience for travellers and locals alike. With a range of dining options near the airport, food enthusiasts can explore a diverse selection of cuisines. 
Whether it's indulging in gourmet burgers at Biggies Burger, relishing the flavours of Southern cuisine at Popeyes, savouring authentic South Indian delicacies at Junior Kuppana, enjoying a fusion of Asian delights at Asia 7, or treating oneself to heavenly desserts at Dessert Works, there is something to satisfy every palate. 
These top-rated dining places near Chennai airport ensure visitors have an amazing gastronomic journey, making their travel experience even more enjoyable and memorable.
Frequently Asked Questions (FAQs)
How can I spend my layover time at Chennai airport?
If you have plenty of time during your layover at Chennai Airport, you can explore the new and exciting Aerohub Mall on the airport premises. The mall is home to many fashion, beauty, electronics, home decor, entertainment and dining destinations, offering you a one-stop shop for all your shopping!
Which restaurants near Chennai Airport offer vegetarian or vegan food options?
Some of the restaurants that offer exclusive vegetarian and vegan options in Aerohub are- Adyar Ananda Bhavan (A2B), Vasanta Bhavan, WOW Momo, Burger King, Subway, Asia 7, Street Foods by Punjab Grill, Biggies Burger, and more.
Are there any multi-cuisine restaurants near Chennai Airport that offer a variety of dishes?
Yes, there are several multi-cuisine restaurants near Chennai Airport in Aerohub Mall. The mall houses a multitude of restaurants ranging from those that offer burgers and pizzas to biryanis and chaat items.