Are you fed up with the long layovers and extended flights at Chennai International Airport? Do you want to turn your waiting time into a memorable layover? If yes, get ready! The bustling travel hub offers an opportunity to explore a world of excitement and entertainment that makes your day unforgettable. 
A Day At Chennai Airport
If you are a passenger travelling to different cities/countries, you might need to spend time at the Chennai International Airport due to unexpected layovers and flight delays. But with our ultimate guide, you need not worry about the boredom hitting, testing your patience. 
The Chennai International Airport is the one-stop destination for entertainment, food and relaxation. If you want to spend time lazying around a first-class mall, the airport has the Aerohub Mall. It offers everything and whatnot. 
The Chennai International Airport makes your every moment count with its offerings. Let's get into the blog and find out the BTS of layovers and extending flights. 
9 Things To Do At Chennai Airport
Here're the nine things you can do at the Chennai International Airport to make your layover stories more interesting. 
1. Aerohub Mall: For An All-In-All Experience!
Aerohub Mall is a shopping mall located inside the premises of the Chennai International Airport and is connected to the airport terminal by a skywalk. Being open to the public and passengers, the mall has everything you need to kill time. 
i) Shopping Therapy For Your Blues!
Aerohub Mall is a haven for your fashion soul if you are hunting for clothes from top brands. From Reliance Trends, Zivame, Go Colours, Aurelia and Women to Pantaloons, you will be amazed to see the fashion-forward styles. 
If you are tech-savvy, explore the stores like Samsung, Lenovo and Acer. Cutting-edge smartphones, laptops and other smart devices that cater to your needs will be high-quality and high-functional. 
What is shopping without cosmetics? The Body Shop and Sugar Cosmetics come to your rescue and have everything you need to nourish your body and soul and enhance your beauty and confidence. 
Elevate your style with eyeglasses by purchasing at iconic Lenskart and Ray-Ban and make others look down and notice your footwear with Bata, Crocs, Adidas, Puma and Skechers. Satisfy the shopaholic in you with the one-stop destination, Aerohub Mall!
ii) Satisfy Your Food Cravings!
Aerohub is a vibrant food hub that acts as a paradise for foodies. If you have a sweet tooth and want to indulge in an irresistible dessert experience, go to the Dessert Works and House of Candy. 
Are you craving an authentic South Indian breakfast? Opt for Vasanta Bhavan or A2B and try their paper dosas, aromatic filter coffee and crispy vadas. We are sure that the Indian flavours will leave you wanting more. 
For a quick bite on the go, you can visit Burger King, KFC, Popeyes, Subway, Pizza Hut, Wow China, WOW Momo, etc., and taste the delights such as sandwiches, burgers, momos, pizzas, crispy chicken fries, and wraps.
iii) Relax As You See Your Kids Enjoy The Kid's Play Area!
Are you travelling with your kids? We know how tiring and difficult it can be. With the added period of long layovers and extended flight timings, it could be challenging too! But you need not worry about it anymore since Chennai International Airport has a mall with a kid's play area. 
For all parents' relief, Aerohub has created a kid's play area that keeps the children entertained and engaged. Games such as ball pits, VR experiences, mystery games, etc., allow children to socialise with other kids and have fun, not disturbing the parents. 
It is the best place for kids to spend time during the waiting period, where they mostly tend to throw tantrums. 
iv) How About Having A Rejuvenating Spa Session?
If you are up for rejuvenation and relaxation, you can opt for Tony & Guy at Aerohub Mall! The spa services nourish, heal and revitalise your mind, body and soul. Be it a soothing massage, reviving body scrub or an enlivening facial, you can get anything that leaves you feeling refreshed. 
You can also get a haircut, pedicure, manicure, etc., at Tony & Guy Aerohub Mall, which calms your blues. 
v) Movie Lovers Assemble!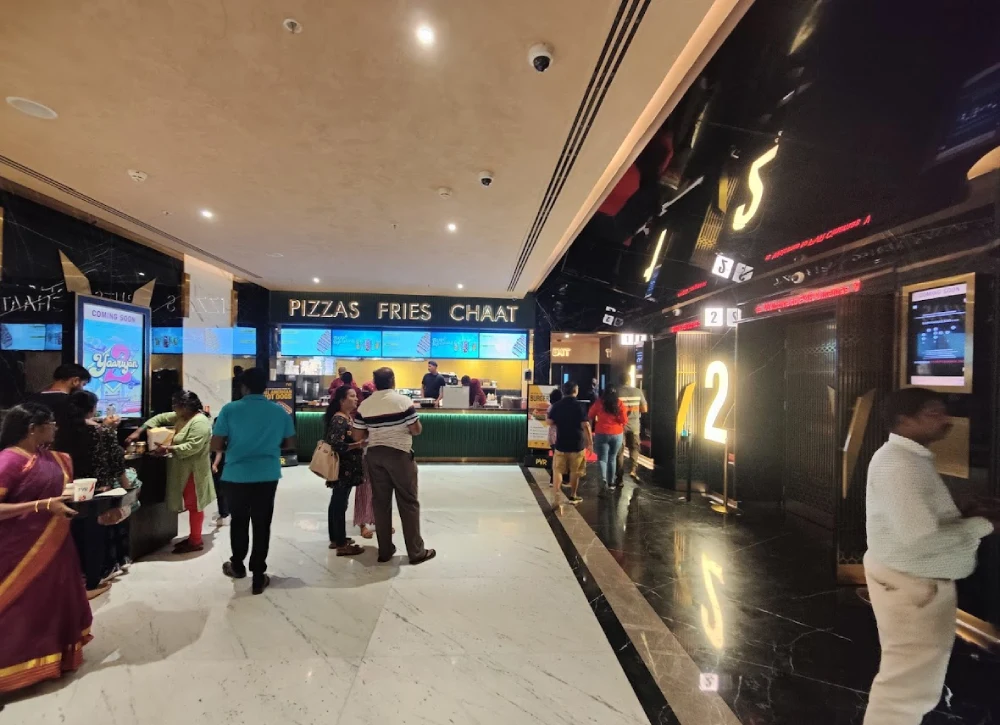 Are you a movie enthusiast seeking a movie break amidst your long layover? Aerohub at Chennai International Airport comes to your rescue. Its PVR Cinema Multiplex theatre is a perfect escape from your waiting time. 
With a seating capacity of 1155 people, five screens and Dolby Atmos audio capabilities, Aerohub's PVR turns your leisure time into a compelling cinematic experience. Its cutting-edge technology and top-notch audiovisual systems give a crystal-clear sound that makes your movie time worth it.
So, next time, use the waiting period and catch up with any action, horror, romance, comedy, thriller movies, etc. It is time to de-stress the inconvenience caused due to flight delays and layovers and turn them into an unforgettable experiences. 
vi) Have Unparalleled Fun At Live Entertainment Destination (LED)!
Are you up for live entertainment during long layovers and extended flights? Aerohub offers unique experiences that make your waiting time a pure joy. Under one roof, you can enjoy all VR wonders, arcade games, laser battles, jungle expeditions, snowfall, etc. 
It attracts people of all ages since the experiences are thrilling, adventurous, and beyond your wildest expeditions. It promises an experience that captivates your senses and kindles your imagination. 
So, for unlimited fun, uncontrollable laughter and an abundance of happiness, visit Aerohub Mall! It is where endless excitement awaits. It is easily accessible for the general public and passengers to relax and rewind. 
What Else Can You Do?
Though Aerohub offers an enjoyable experience to spend long layovers and extended flights, you can also do other things at the Chennai International Airport. 
2. Enjoy The Free Wifi At The Airport!
You can connect to free high-speed airport Wi-Fi at the main terminal, including the check-in area, security checkpoint, departure gates, lounges, restaurants and cafes. All you have to do is, sign in with your mobile number and enter the OTP sent to your number for using the free Wi-Fi for 45 minutes. 
If you have a short layover or extended flight, you can use the Chennai International Airport's Wi-Fi to check your social media, shop online, read e-books/news, watch a movie, play games or listen to music. So, next time, don't fret and use the Wi-Fi full-fledged during your waiting period.
3. Sudden Meeting? Conference Room For Your Rescue!
Are you waiting for your flight at the Chennai International Airport and getting a sudden work call? You can use the airport's free Wi-Fi, but what to do for the noisy background? For your need, Chennai Airport well-maintains conference rooms, a perfect place for you to carry on uninterrupted with your meetings. 
Suppose you are an entrepreneur or a professional. In that case, whether it is a private meeting, brainstorming session or video conference, you can productively utilise the high-speed internet connectivity and advanced conference rooms for your business.
4. Meditate at Chennai Airport's prayer halls!
Do you want to spend your layover and extended flight time in peace? Then, you should visit the prayer halls of Chennai International Airport. The multi-faith space is free and open to all passengers. You can find a quiet spot for yourself and meditate there. Ensure you respect people around you since it is a public space.
Why Is Aerohub Mall The One-Stop Destination For Unlimited Fun?
The Aerohub Mall is a one-stop shop for all of your needs! The mall features entertainment, good food and a children's play area, and it is an abode for shoppers! 
It provides a luxurious experience that leaves tourists speechless with its endless offerings. It also hosts live events that immerse the audience in the realm of art regularly. 
It is handy for passengers to spend their layover and extended time leisurely and productively because it is located within the premises of the Chennai International Airport. It is not just limited to people visiting the airport for travelling but is also open to the public. 
So, if you are looking for a place with everything, like a theatre, play area, dining option, and retail experience, opt for Aerohub Mall. 
Conclusion
Chennai International Airport is more than just a transit hub and offers a complete travel experience. From the tax-free shops providing retail therapy, restaurants offering diverse cuisine options, and relaxing spa services, the airport makes your waiting time enjoyable and fulfilling. 
With well-maintained lounges, the Chennai Airport provides a comfortable stay for business travellers and those who require a peaceful retreat. The Aerohub Mall, which lies within the airport's premises, with its world-class facilities, extensive shopping opportunities, delicious dining choices, and a range of leisure activities, makes your journey a travel adventure. 
FAQs – Things To Do At Chennai Airport
1). Is there a place to sleep at Chennai Airport?
Many options are available if you want to rest or sleep comfortably at Chennai Airport. You can opt for airport lounges, chairs, hotels and recently opened sleeping pods called Sleepzo. However, some services are paid and calculated based on hourly time spent. You can enjoy the Wi-Fi, food, drinks, etc. 
2). How to spend time at Chennai Airport?
You can spend time shopping at the airport's duty-free shops, getting yourself a massage or spa treatment, visiting the airport's only museum, having good food at the airport restaurants, and connecting to free Wi-Fi for personal and professional usage. 
3). Can we go out of Chennai Airport during a layover?
Yes. You can go out of Chennai Airport during a layover. However, if it is a short layover, it won't be worth it since it takes 30 minutes to reach the city's centre and explore the nearby places. Keep your passport, boarding pass and visa handy while leaving the airport. 
4). What are the places to visit near Chennai Airport?
Suppose you have an extended layover or flight times. In that case, you can step out of the Chennai International Airport and explore the nearby attractions, such as St. Thomas Mount, Gandhi Mandapam, Kathipara Square Park, Vandalur Zoo, Vivekananda House, etc. 
5). Why is Aerohub Mall a perfect destination for travellers, locals and shoppers?
Aerohub Mall is in a convenient location, inside the premises of the Chennai International Airport, making it easy for the passengers to spend their waiting time productively. The mall is also open to the public, and there is ample time to shop, have good food and watch movies in peace.