Are you bored and contemplating hanging out with family and friends? Planning to watch the latest movie release this week? Are you looking for a place with a variety of dining options? Well, shopping malls are the answer! In this blog, we'll explore the top 3 shopping malls in and around Pallavaram, where you can find a range of entertainment and dining choices. Get ready for a fun-filled retail experience and indulge in delicious food at these shopping destinations.
Introduction
Are you seeking a getaway from your busy weekdays and quality family time? Where can you discover the latest collections from top brands if you're a fashion lover? The perfect option is shopping malls! Dating back to the mid-19th century, shopping malls have evolved into experiential destinations where you can have a multitude of experiences. These malls offer a blend of experiences from shopping and dining to entertainment. This blog is tailored to provide a guide to the top malls in and around Pallavaram.
A perfect spot you can't miss
Aerohub is the talk of the town for the magnitude of amenities it holds. Aerohub is the perfect place if you want a site to experience various cuisines and get mesmerised by its architectural beauty. Aerohub is the place that blends dining, Entertainment and Shopping in a perfect mix that gives the utmost experience. Aerohub will have a permanent place in your weekend plans. These are the top malls in Pallavaram!
3 Best Shopping Malls In Pallavaram
1. Aerohub
Located in Meenambakkam, Aerohub is a sanctuary for devoted shopping. Prepare for an unmatched shopping experience as you immerse yourself in a world of magnificent products from recognised international brands. Aerohub's captivating architectural style will have you spellbound, and it makes the ideal setting for awe-inspiring photo shoots.
Spanning an impressive area of over 2.5 lakh square feet, Aerohub houses a vast array of 100+ world-class brand stores and showrooms. Discover a world of fashion-forward apparel, cutting-edge electronics, and stylish home decor at Aerohub.
This shopper's paradise offers a delightful experience where you can indulge in the latest trends and explore a treasure trove of premium products. Top fashion brands that are available in Aerohub are Puma, Addidas, Pantaloons and Fabindia; Vasantha Bhavan, Starbucks, Pizza Hut, Burger King, and Junior Kuppanna are some top restaurant options that are of a higher quality and greater formality compared to the experience at a casual dining restaurant.
For movie enthusiasts, the state-of-the-art 5-screen PVR Inox theatre at Aerohub guarantees an unforgettable cinematic experience with stunning clarity and immersive sound. With one of the largest parking areas among malls, accommodating over 2200 cars, parking worries become a thing of the past, allowing you to enjoy your visit stress-free. 
Let's unleash the delightful experiences Aerohub Mall offers in detail,
i) Shopping
Aerohub Mall is the ultimate destination for premier shopping in Pallavaram, providing an unparalleled and unforgettable experience. The mall sets the stage for a remarkable shopping journey with its stylish and contemporary atmosphere, attentive service, and impressive high-end fashion choices. Located near Chennai International Airport, Aerohub becomes a convenient shopping haven for travellers needing retail therapy before their flight.
General fashion: Fab India, Pantaloons, Reliance Trends 
Women's fashion: Zivame, Aurelia, BIBA, Go Colors
Men's fashion: Lee Cooper, John Players
Accessories & optics: Lenskart, Ray Ban
Sportswear: Skechers, Adidas, Puma
Cosmetics & salon: Toni & Guy, Body Shop & Sugar Cosmetics
Footwear: Bata, Crocs
ii) Cafes & Restaurants
AeroHub Mall delights food enthusiasts with its various culinary options. You can refuel and satisfy your taste buds at the expansive food court, offering diverse flavours and cuisines to suit every palate. From international cuisines to local delicacies, the mall provides various dining choices. Whether you crave gourmet dishes, fast food, or authentic flavours, AeroHub Mall caters to every palate, ensuring a delightful and satisfying culinary experience.
Food courts & restaurants: Vasanta Bhavan, Street of Arabia, WOW MOMO, WOW China, Burger King, Pizza Hut, KFC, Gourmet Food, Subway, Kobe Sizzler, A2B,

Pizza Hut, Burger King, and Junior Kuppanna.

Cafes: Starbucks, Chai Waale & Squeez Juice bar 
iii) Entertainment
Experience the ultimate cinematic treat at Aerohub Mall's 5-screen PVR. This state-of-the-art cinema caters to the discerning tastes of movie enthusiasts, offering a captivating viewing experience. With cutting-edge technology and comfortable seating, each screen ensures an immersive journey into the world of film. From action-packed blockbusters to heartwarming dramas, PVR at Aerohub Mall guarantees a memorable movie outing for every cinema lover. Relax, unwind, and let the magic of the big screen unfold.
iv) Electronics & Gadgets
Immerse yourself in a realm of advanced technology and innovation within the electronics and gadgets section of Aerohub Mall. This specialised area is a haven for tech enthusiasts, showcasing cutting-edge products, including the latest smartphones, tablets, state-of-the-art home appliances, and top-of-the-line entertainment systems. 
Renowned brands: Samsung, Asus, Lenovo, and ACER 
v) Kids Play Area
Enter the specialised kids' zone, where children may release their infinite energy and imagination. Children are guaranteed hours of excitement and joy in a safe and secure setting with interactive play spaces, fun-filled rides, and engaging activities. Aerohub Mall has a cutting-edge multiplex that promises an immersive film experience for movie enthusiasts. 
vi) Parking & Reachability
With one of the largest parking areas among malls, accommodating over 2200 cars, parking worries have become a thing of the past, allowing you to enjoy your visit stress-free. The mall is also located a mere 4.5 km from Pallavaram, making it easily accessible for nearby residents.
Reaching this retail paradise is a breeze whether you arrive at Aerohub by road, metro, or suburban route. So why wait? Embark on a 10-minute breezy ride from Pallavaram and immerse yourself in a world of luxury, style, and unmatched shopping experiences at Aerohub.

2. BSR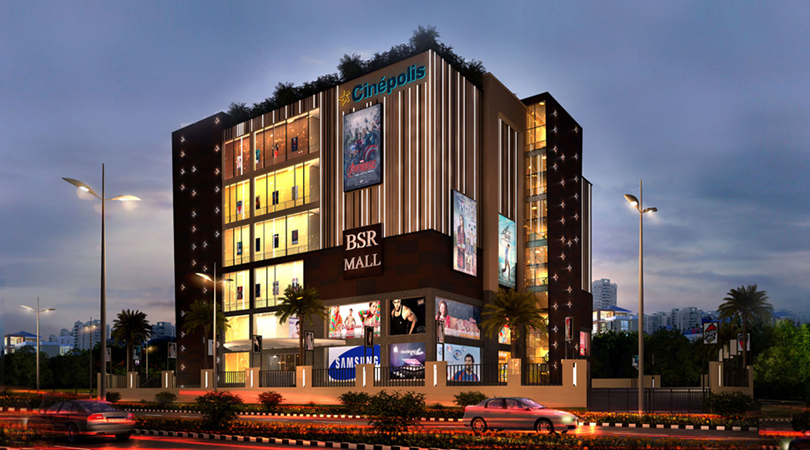 BSR Mall, a thriving hub that draws students from several colleges in the nearby OMR and ECR regions, is situated on the busy OMR route in Thoraipakkam, 12.7km from Pallavaram. This shopping location has a wide selection of stores to suit the varied tastes of its patrons, including well-known shops like Croma, Westside, and Starbucks. BSR Mall is a go-to location for individuals looking for the newest trends and goods. 
BSR Mall is not just about shopping. It presents a unique feature that sets it apart from other malls in the area – food truck-style restaurants. These mobile culinary delights can be found within the premises. The mall's food truck-style restaurants and food stalls offer a delicious culinary experience that will satisfy every palate with various snacks, cuisines, and delectable desserts. 
Address:

IT CORRIDOR EXPRESSWAY, 1/609, OMR ROAD, Seevaram, Thoraipakkam, Tamil Nadu 60009

Timings:

10.00 AM To 1.00 AM
3. Grand Square
Grand Square Mall in Velachery is a busy shopping area that satisfies various requirements and tastes. The mall has become a destination for leisure and shopping due to its excellent location and wide range of products. It is located at 10km from Pallavaram. Grand Square Mall has a large assortment of shops, including national and international chains, and it provides a wide range of accessories, technology, home goods, and clothing for the latest trends.
Beyond shopping, Grand Square Mall offers a range of entertainment options to keep visitors engaged. The Five-screen PVR multiplex cinema provides a state-of-the-art viewing experience for movie enthusiasts, with cutting-edge technology and comfortable seating. Additionally, the mall boasts a diverse selection of dining options, allowing visitors to indulge in various cuisines. The mall has a sporting arena named 'Dug Out' that attracts youngsters and sports enthusiasts.
Address:

137, Velachery – Tambaram Main Rd, V.O.C Nagar, Doctor Seetaram Nagar, Velachery, Chennai, Tamil Nadu 600042

Timings:

10:00 AM to 10:00 PM
Conclusion
In conclusion, Pallavaram and its surroundings are home to top retail malls providing a wide range of tourist experiences. Meenambakkam's Aerohub Mall, which offers the ideal fusion of food, entertainment, and shopping, stands out for its grandeur, top-tier brands, and stunning architecture. 
Food truck-style restaurants that give a distinctive flavour to the delectable fare are available at the BSR Mall in Thoraipakkam, which offers a bustling shopping experience. 
The variety of shops, entertainment activities, and food options at Velachery's Grand Square Mall draw tourists. These malls can satisfy all your cravings, whether you are a fashionista, movie fanatic, or food enthusiast. Plan your next excursion to one of these malls to take advantage of the shopping frenzy, tantalizing cuisine, and immersive entertainment they provide. 
FAQs Related to Shopping Malls In Pallavaram
What are the top retail malls in Pallavaram and its surroundings?
The top retail malls in Pallavaram and its surroundings are Aerohub Mall in Meenambakkam, BSR Mall in Thoraipakkam, and Grand Square Mall in Velachery.
What makes Aerohub Mall unique?
Aerohub Mall stands out for its grandeur, top-tier brands, and stunning architecture. It offers a perfect fusion of food, entertainment, and shopping, providing visitors a luxurious and alluring experience.
How can visitors reach these malls?
Each mall has its location and accessibility. Visitors can reach these malls by various means, including public transportation, private vehicles, or metro. For easy navigation, detailed location links are provided for each mall in the blog.