Summary
Read on to learn about the best shopping malls in Guindy, which provide a diverse range of fashion brands and exceptional dining, entertainment and shopping experiences.
Introduction
Who doesn't love malls? In the bustling city of Chennai, most of us spend our weekends in the vibrant malls, either shopping, food hunting, watching movies, scoring in the fun city, strolling around, etc., with our beloved friends and family. This blog will take you through the 4 best shopping malls in Guindy to visit next time, giving you an unparalleled experience.
Here're The 4 Best Shopping Malls In Guindy
Guindy, a bustling neighbourhood in Chennai, is home to some best shopping malls in the city. Here're the 4 shopping malls that meet your expectations.
1. Aerohub
If you want a luxurious indulgence, your one-stop destination should be Aerohub, the best shopping mall in Guindy, standing magnificent and redefining the concept of malls. It is a perfect place for shopaholics, foodies, movie lovers, and parents looking for activities to keep their children entertained and engaged. 
Shopping heaven:
For shoppers, the Aerohub Mall is a paradise that satisfies your fashion soul. With high-end fashion brands, renowned international retailers and extraordinary collections, the mall offers a surreal and stunning shopping experience that you have never had like before.
We bet your inner fashionista will pop out after shopping at Aerohub Mall, located inside the premises of the Chennai International Airport.
General fashion: Fab India, Pantaloons, Reliance Trends
Women's fashion: Zivame, Aurelia, BIBA, Go Colors
Men's fashion: Lee Cooper, John Players
Accessories & optics: Lenskart, Ray Ban
Sportswear: Skechers, Adidas, Puma
Cosmetics & salon: Toni & Guy, Body Shop & Sugar Cosmetics
Footwear: Bata, Crocs
Food paradise:
The food court at Aerohub Mall offers varieties and is the best place to fulfil your taste buds. You can enjoy delicious, hot-piping foods of different cuisines in one place! And guess what? It is open 24*7!
Restaurants: Vasanta Bhavan, Street of Arabia, WOW MOMO, WOW China, Popeyes, Burger King, Pizza Hut, Junior Kuppanna, KFC, Gourmet Food, Subway, Kobe Sizzler and A2B 
Cafes: Starbucks, Chai Waale & Squeez Juice bar
Entertainment:
Aerohub has you prepared for anything you want to do when you finish your food and shopping! With the most comfortable seats and cutting-edge sound systems, PVR INOX Cinemas is the perfect place to see your favorite movie right now. It's a treat for moviegoers since Aerohub's theaters provide maximum comfort and roomy legroom for them to enjoy their films.
Stop being so excited! Aerohub has more to offer, after all! You'll be on edge playing VR games at the mall's exclusive Live Entertainment Destination (LED), which features laser fights, jungle explorations, and snowfall. The Aerohub Mall offers a chance for dreams and realities to collide.
Electronics and Gadgets:
Explore the electronics outlets if you are tech savvy. Your demands will be met by cutting-edge smartphones, laptops, and other smart devices that are of the highest quality and functionality. 
Brands: Samsung, Asus, Lenovo & ACER
Kid's play area: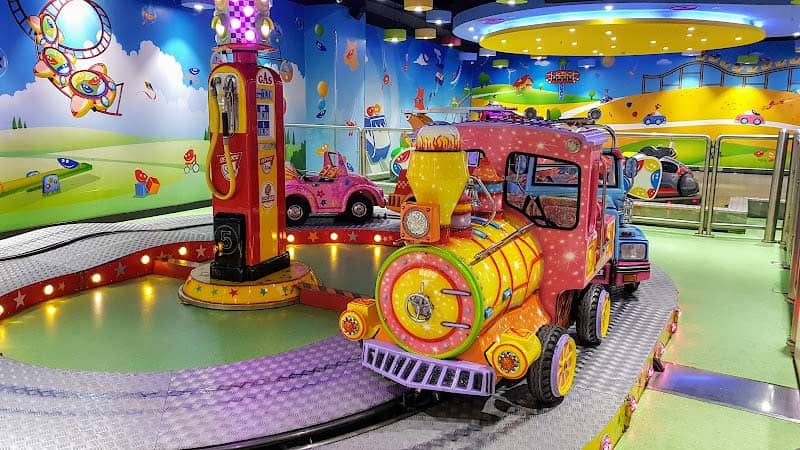 For parents, weekends are no longer a nightmare! Their fears are somewhat lessened thanks to the children's play area at Aerohub. The fun zone offers engaging activities for kids to explore, have fun, learn, and interact with others, such as ball pits, mystery games, adventure games, etc.
Parking facility:
Prioritising customer satisfaction, the Aerohub Mall, the best shopping mall near Guindy, provides a spacious parking facility accommodating 2200+ two- and four-wheelers at a time. It gives its valued customers a convenient, secure and hassle-free parking experience, ensuring a smooth parking encounter.
Location: Aerohub Mall, Chennai International Airport, Meenambakkam, Chennai- 600027
Timings: Monday to Sunday- 11 AM to 10 PM
You now know where to go for an all-in-all experience, from shopping, entertainment, good food and a kid's play section! 
2. Grand Galada Centre Mall
Another famous shopping mall in Guindy is Grand Galada Mall. If you want retail therapy, explore the mall's fashion, accessories, electronics, home decor and more. You can also have a fine dining experience at Grand Galada's exclusive food court, offering various options to foodies. 
You can also spend time with your friends and family watching movies at the mall's renowned multiplex theatre or indulge in fun activities at its interactive gaming and entertainment zone. It is both the best shopping destination and a hub of entertainment.
Location: Grand Galada Centre Mall, Officers Line, GST Road, Chennai- 600041
Timings: Monday to Sunday- 10 AM to 10 PM
3. VR Mall
The next shopping mall that offers more than just a retail experience in Guindy is VR Mall. It is a one-stop destination for your adrenaline rush. If you are an adventurer seeker, but looking for an escapade in Chennai, VR Mall has a VR zone with interactive games. From thrilling roller coasters to mind-bending simulations, the mall has it all!
You can also shop from your favourite brands, have good food at the food court, and watch movies at the mall's start-of-the-art multiplex theatre, spending one day in a single place without any hassles.
Location: 100 Feet Road, Chennai- 600040
Timings: Monday to Sunday: 10 AM to 10 PM
4. Phoenix Marketcity
For an exceptional shopping experience, you should head to Phoenix Marketcity. It is a haven for shoppers, with its popular lifestyle stores to high-end fashion labels. The mall also has a food court that offers a delightful culinary experience.
You can watch a movie at its multiplex cinema theatre, play in the gaming zone for kids and adults or just stroll in the mall. We bet your day will go in a jiff when you choose Phoneix Marketcity since many things keep you engaged and entertained.
Location: Indira Gandhi Nagar, Chennai- 600042
Timings: Monday to Sunday- 10 AM to 10 PM
Conclusion
The shopping malls in Guindy boast of offering exceptional shopping experiences, delectable dining options and engaging entertainment facilities, catering to the diverse needs and desires of the customers.
If you are a fashion enthusiast, a technology lover, a foodie, or a family seeking an affordable weekend gateway, malls are the perfect place that has something for everyone. With their modern amenities and pleasing ambience, malls offer delightful experiences for those who visit.
FAQs
1). Which mall is best for shopping in Chennai?
With their renowned brands, Aerohub, Express Avenue, and Phoenix Marketcity are considered the best shopping destinations in Chennai. They give you an unparalleled shopping experience, from fashion and accessories to electronics and home decor.
2). Where is Aerohub Mall located?
Aerohub Mall is located within the premises of the Chennai International Airport. It offers an all-in-all experience to both travellers and locals with its renowned shopping brands, dining options, state-of-the-art theatre facilities, and kid's play section. It upholds luxury, convenience and comfort for its customers.
3). Is Aerohub Mall open to the public?
Yes, Aerohub Mall is open to both public and travellers. With its strategic location, it offers extraordinary experiences to create unforgettable memories.
4). Why are malls expensive?
Malls are expensive because of their prime location, various high-end amenities and facilities, high-quality customer services, and the presence of renowned brands.
5). What are the brands in Aerohub Mall?
Here're some prominent brands at Aerohub Mall, Reliance Trends, Puma, Pantaloons, Acer, Ray-Ban, Go Colours, Zivame, Aurelia, Toni & Guy, American Tourister, Crocs, Jockey, Lee Cooper, John Players, Levis, and Sugar Cosmetics.