Short Summary
Are you Looking for the best places to buy branded clothes near Chennai Airport? Don't worry; you are looking at the right place. Let's explore the best shopping places for branded clothes near Chennai Airport. This blog highlights the top 10 branded shopping destinations near Chennai Airport.
Introduction
If you are from places like Meenampakkam, Pallavaram, or Chrompet, Aerohub Mall is your perfect destination for lifestyle shopping. Suppose you are making your last-minute purchases before catching your flights or just hovering around on a perfect weekend. In that case, the Chennai Airport is a perfect shopping destination.
Nested within Chennai Airport is Chennai's latest and best Aerohub mall. Cherish your fashions with the top brands located within the mall, confined within the gates of the Chennai Airport. From traditional ethnic wear to swag and peppy jeans, we have covered all your styles.
Get ready to shop the best brands near Chennai Airport!
10 Places to Buy branded Clothes Near Chennai airport
The Aerohub, the idle shopping destination for people near Chennai Airport, is nestled within the heart of the CBD and seamlessly accessible by all major transportation options.
Here are the top 10 famous brands available in Aerohub that can give you the best shopping experience
Aurelia
BIBA
John Players
Go Colors
Lee Cooper
Levis
W for Women
Adidas
Skechers
Puma
Aurelia
Aurelia is renowned for quality, comfort, and style in all its goods, which are made using premium materials and fine detailing. Kurtas, Kurtis, salwar suits, and sarees are just a few things that Aurelia has to meet the needs of women with various fashion tastes.
Aurelia supports traditional craftsmanship and fair trade principles by working with artisans and weavers and using eco-friendly materials and colours. In order to meet the needs of women of all sizes, Aurelia also provides a variety of plus-size alternatives.
BIBA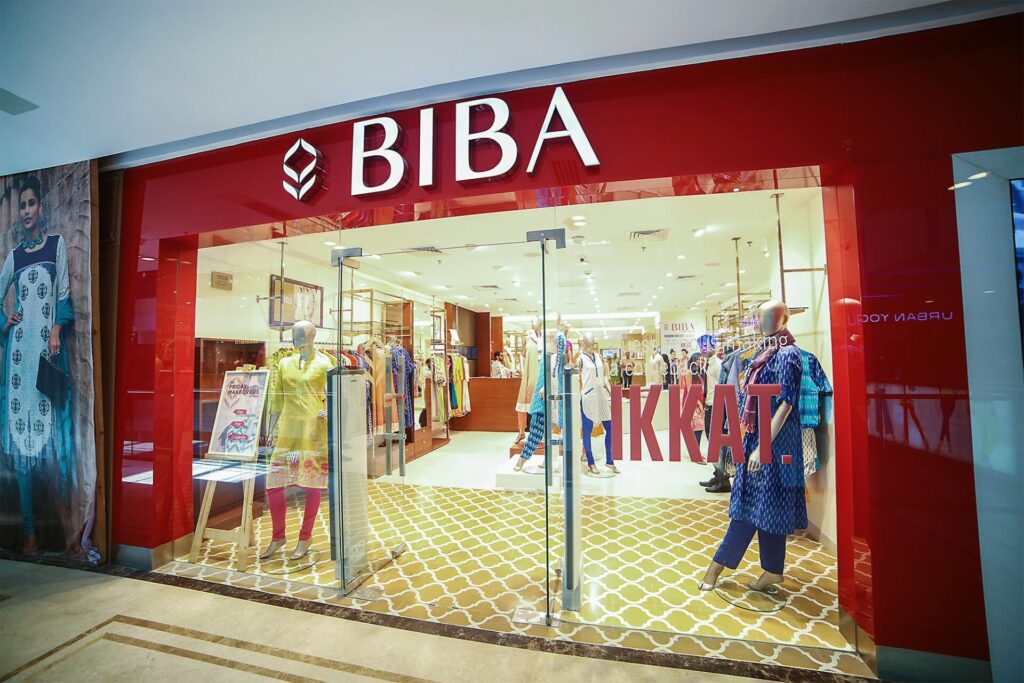 BIBA is renowned for its emphasis on traditional style, innovation, and quality. It caters to the demands of women with various fashion tastes who love wearing ethnic wear on special occasions. Shop the wide selection of products, including ethnic, western, and fusion wear.
The company is dedicated to giving consumers a personalised shopping experience, with professionals to support and advise them in selecting the ideal outfit. Generally, women who value comfort and fashion favour BIBA.
John Players
John Players is a famous men's clothing brand. It provides a wide selection of shirts, T-shirts, trousers, and jackets. John Players is your go-to brand if you are looking for the best formal and casual wear. It also offers men's accessories such as ties, belts, and shoes.
The company is well known for its quality, which satisfies contemporary men's needs. You can experience the best men's shopping experience thanks to its simple and modern showroom design built to exhibit comfort and style. You can get the latest fashion trends and merchandise here.
Go Colors
Go Girl! Go Colors is one of the best women's premium brands that offers Leggings, jeggings, palazzos, and other casual yet fashionable clothing alternatives. You can get the best apparel with the latest style and high comfort.
Go Colors designs and caters to girls & women of all age groups and sizes. You can check out 50+ legwear styles in more than 120 colours. Take a look at the wide selection of fashion, from Western fusion to classic desi wear. You get the best, premium-quality products at a price that is surprisingly affordable.
Lee Cooper
Lee Cooper is a famous and premium clothing brand that offers high-quality and stylish merchandise for men, women, and children. You can check out a wide range of jeans, t-shirts, jackets, and accessories such as bags, belts, and hats.
The showroom is designed with a modern and minimalist aesthetic, providing a comfortable and inviting environment for customers to have a good shopping experience.
Levis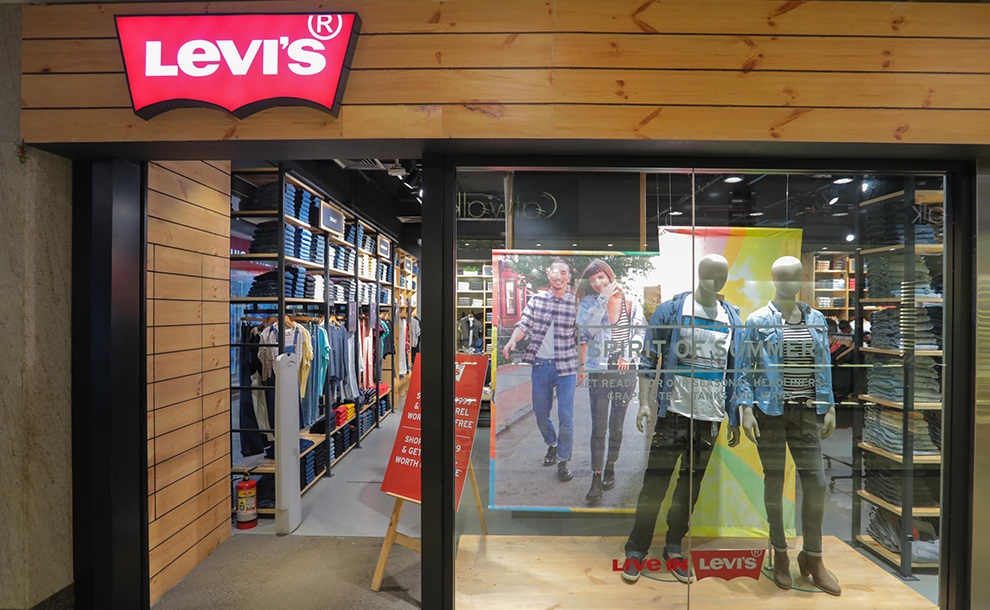 Levi's is the icon of jeans. From the iconic Levi's 501 to a wide range of fits, washes, and styles, Levi's offers a diverse selection of jeans that cater to your fashion trends and preferences. Beyond jeans, Levi's has expanded its jean product range to include jackets, shirts, skirts, and accessories, showcasing its signature blend of authenticity and versatility.
Whether it's a rugged and lived-in look or a sleek and modern style, Levi's caters to a wide range of aesthetics, making it a go-to brand for fashion-conscious individuals. With its rich heritage, commitment to quality, and enduring style, Levi's continues shaping the fashion landscape, capturing the hearts of denim enthusiasts and trendsetters worldwide like you.
W for Women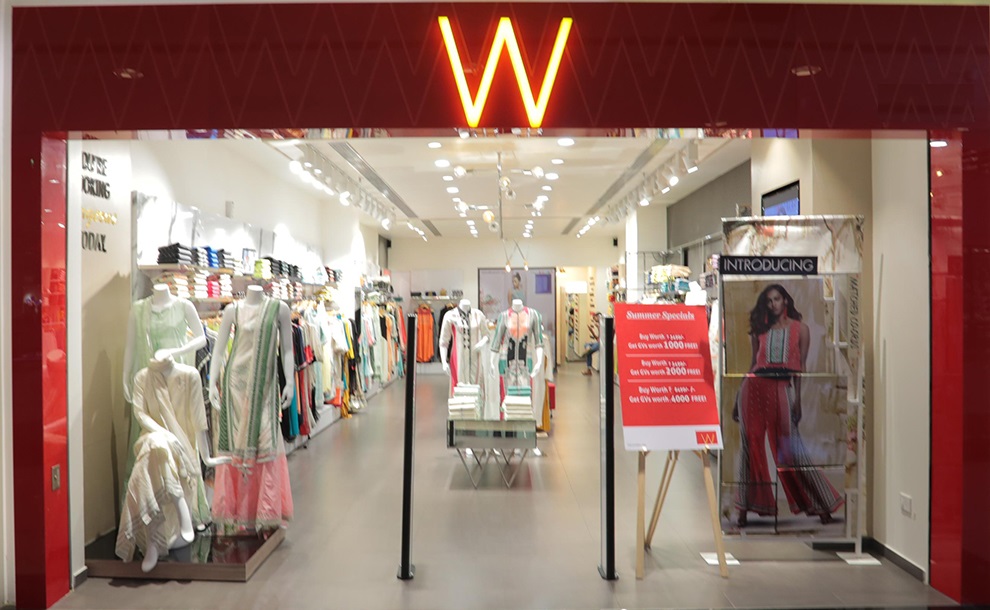 W for Women is a well-known womenswear company that provides various attractive and comfortable apparel options for women. They are the pioneers of the 'Mix n Match' concept in retail. You can shop the latest fashion trends and forecasts that are tailored for the modern Indian woman.
You get high-quality material with the latest designs that fit perfectly in all sizes. W for women have expertise in studying women's body types and came up with 7 fit sizes instead of the regular 3 sizes. Enjoy your luxury brand shopping with W for Women!
Adidas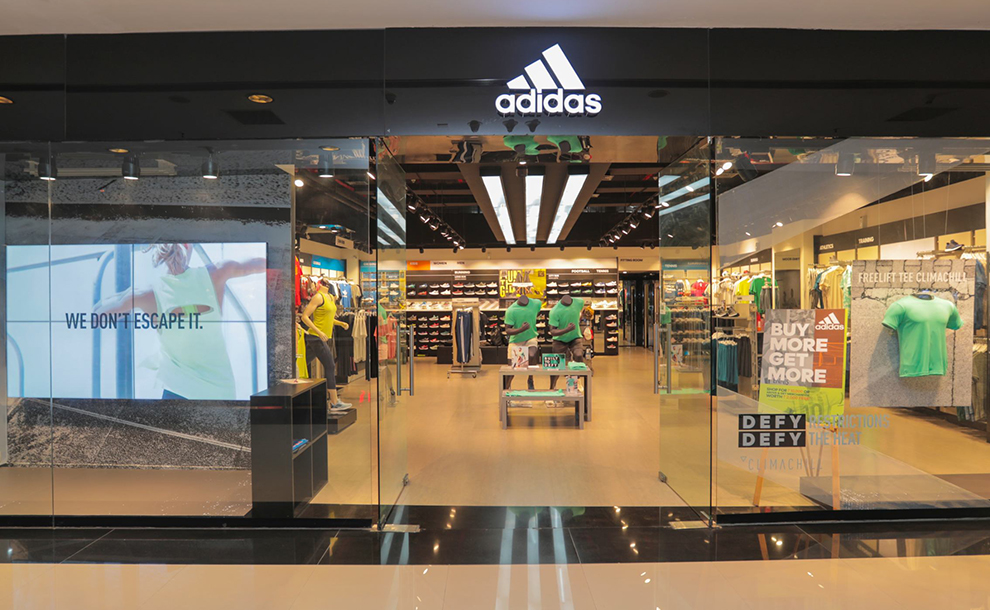 If you are looking for sportswear, then you can never skip Adidas. Adidas is an international premium sports brand that offers the best quality sports outfits. You can shop the best and latest spot attire from Adidas. You can also get after-sale support services here.
You can receive assistance from experienced and friendly sales representatives to help you choose the perfect sportswear and footwear for your needs.
Skechers
Skechers is a famous footwear brand that offers premium, fashionable shoes for ladies, men, and kids. You can shop the latest Skechers shoes that come in all sizes and have unique features. If you want to buy the best sports shoes, Skechers is the right place to shop.
Take a look at the wide selection of shoes, including athletic shoes, casual shoes, boots, and more. Skechers is dedicated to providing comfortable, fashionable, and functional shoes, making them appropriate for everyday wear and athletic endeavours.
Puma
You can get the best quality sports shoes that fit your budget from Puma. Puma shoes have been able to combine functionality with cutting-edge style, creating a unique identity that resonates with athletes and fashion-forward individuals alike.
Suppose you are more conscious of being eco-friendly. In that case, Puma can be your favourite sports brand as it actively engages in eco-friendly practices, incorporating recycled materials and reducing its carbon footprint. Feel confident in the brand's puma spirit, whether on the track, on the court, or the streets.
Did you know? Aerohub Mall is situated at Meenambakkam, near Chennai International Airport, with more than 2.5 lakh square feet of premium space so that you can experience luxury and excitement.
Grab Your Branded Clothes Near Chennai Airport at Aerohub Mall.
Located near Chennai Airport, Aerohub Mall is a haven for lifestyle enthusiasts seeking a complete premium fashion experience. Step into the largest mall that caters to all your needs in one place.
With lots of Indian and Western fashion brands, this place is definitely your dream shopping destination. You can buy a wide range of clothes and accessories that match your elite preferences. Aerohub Mall is one of the best places to buy branded clothes near Chennai airport.
You will feel extremely fortunate if you are living nearer to Chennai International Airport and wait! There is more. Aerohub Mall goes beyond shopping by offering a classy PVR movie theatre experience where you can unwind and enjoy the latest blockbusters.
So, next time you buy branded clothes near Chennai Airport, choose Aerohub for a fun-filled shopping experience!
Shop For Branded Clothes Near Chennai Airport
Chennai is a city of opportunities and excitement. You can find all kinds of people here, from people who choose pocket-friendly shopping to people who prefer luxury shopping. Aerohub is one of many destinations that cater to all types of people and their needs.
With the new Aerohub Mall near Chennai Airport, weekend shopping in Chennai has become more accessible, convenient, and fun!
FAQ
1. How many shopping brands are there in Aerohub?
There are more than 20+ fashion brands in Aerohub, and the count is set to be on the rise. You can shop all kinds of lifestyle products and accessories at Aerohub Mall.
2. What is the best way to reach Aerohub?
You can reach Aerohub Mall by any means. They have 2500+ car packing facilities. However, the best way to reach Aerohub is through the metro or suburban trains if you are coming from a long distance.
3. What are some premium brands for footwear?
Here are three premium and popular footwear brands
Crocs
Sketchers
Puma
Adidas
4. What are some popular brands for women's fashion?
Here are some popular brands for women's fashion
Aurelia
BIBA
Go Colors
W for Women
5. What are some popular brands for men's fashion?
Here are some popular brands for men's fashion
John Players
Lee Cooper
Adidas